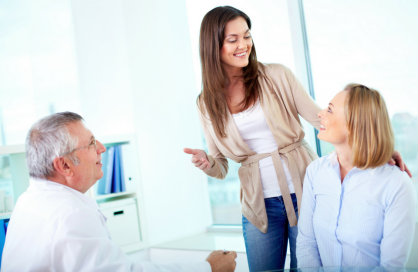 At some point, you may need to request your medical records and your doctor's office may be partnered with MediCopy to complete this request. As a patient, the first question you may ask is: WHY? Why did your doctor's office decide to outsource this task to a different company?
All types of records requests pass through to physicians' offices daily. These records requests can come from attorneys offices, insurance companies, state officials, patients, patient representations, school clinics, etc. Often times, many physicians offices find that the task of completing medical record requests has become too much to handle. The faculty staff can no longer keep up with the fulfillment of record requests in a timely manner and soon, the turnaround time of receiving your own records may be weeks or even months. Instead of hiring more internal staff, the current doctor's office staff will more likely become overworked and the care of patients and quality of the facility may begin to suffer.
MediCopy To The Rescue
This is where we come in! MediCopy works to form partnerships with hospitals and physicians' offices that desperately need relief from the pressures of fulfilling of medical records requests quickly and efficiently while trying to manage their other daily tasks. Our aim is to create a straightforward and efficient system for our clients and anyone requesting records - securely completing each request within HIPAA and HITECH guidelines.
So, most importantly, what makes this beneficial to you - the patient?
We Keep The Process Simple
MediCopy believes in simple, secure solutions and we strive to make the release of information process as easy as possible for our requesters. Once you decide that you need a copy of your medical records from a physician's office partnered with MediCopy, there are many ways we make the process fast and efficient for you. You can first complete a medical records authorization on our website, that will be received by our office immediately after submission. 
Once your request is processed, we will immediately send your records via the delivery method of your choosing. If you provide an email address on your request form, we will send you a password protected link to access your requested records from the moment they are sent. 
Records Will Be Processed in Days, Not Weeks
Most doctors offices that we partner with start with a backlog of up to around 30 days - meaning that it can sometimes take them up to a month to fulfill medical records requests they receive. MediCopy strives to complete all records requests in 2-7 business days after receipt to our corporate office. 
Need a status on your request? You can also call our office anytime to speak with a representative at our corporate office that can any questions you may have about your request. If you need more specific help with your request, all MediCopy partnering doctors offices are assigned a specific account manager that fulfills all the requests for your particular doctor's office. You can find out more about our stellar account managers here.
Patients Are Our Top Priority
If patients aren't happy with our services, then our partnering physicians will not be happy either. Therefore, our main objective is to make sure patients feel comfortable using our services and confident that we will meet their needs. We train our staff to carefully explain the release of information process to patients who may not fully understand and reassure them that their medical information is secure. We also understand that the release of information process can be extremely stressful for patients, depending on their situation and we will work to always treat you with compassion and fulfill your request as quickly and efficiently as possible. 
If you ever need to reach out to our office with questions or concerns, please Contact Us anytime and we will be happy to help! 
Patient Resources
Request Your Records   |    Pay An Invoice   |   Frenquently Asked Questions   |   More About MediCopy